NODA BROADCAST E-MAIL 10/14/2016 e-News
Back to: BROADCASTS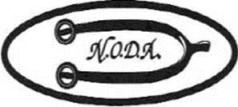 Northern Ohio Dressage Association
www.NodaRider.org
Year-End Awards Deadline: Tomorrow, October 15

All Competition Report Forms (Award Applications)
must be mailed and postmarked by October 15 to be eligible.
Awards & Trophies presented at November 19 NODA Banquet.
Awards, Information, Forms
Schooling Shows
NODA Members – Your Opinion is Important to Us!

The Schooling Show Committee is meeting soon to plan the 2017 show season.
We would love your input to help guide our planning
Please complete this quick Survey by next Friday so your opinion can be heard.

NODA Schooling Show Survey Deadline: Friday, October 21

Your Suggestions, Compliments, Concerns, or Questions are always welcome!
E-mail the Schooling Show Manager, Sally Burton, directly at SchoolingShow@nodarider.org
NODA BANQUET CELEBRATION Mark Your Calendars! November 19, 2016

Join us at the Crown Plaza Hotel in Independence Ohio.
Formal Invitation and Banquet Festivity details coming soon. RSVP required to Attend.
Questions? Contact Shannon Banquet@NodaRider.org.
NODA CONTACTS, FAQ, FORMS
Have questions, suggestions, concerns, feedback?
Check out the CONTACT US page of the NODA website or e-mail MemberRep@nodarider.org
Need a Form? Need Information?
Go to FAQ & FORMS on the NODA website.
NODA supports the USDF in its strong recommendation that ALL riders
wear ASTM / SEI Certified Protective Headgear when mounted.
******
NODA Broadcast Email Issued by: Northern Ohio Dressage Association
To delete your email from further NODA Member News Broadcasts,
contact webmaster@nodarider.org Website: www.NodaRider.org
NODA is a 501(C)3 Educational Organization