NODA BROADCAST E-MAIL 10/19/17 e-News
Back to: BROADCASTS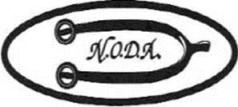 Northern Ohio Dressage Association
www.NodaRider.org

Oct 23 Championship Certificate Deadline Reminder
Oct 8 NODA Schooling Show Champions receive one FREE 5x7 Photo of any picture from
Erich Linder Photography's website, www.EMLinderPhotography.com.
E-mail your order no later than Oct 23 to Sally at SchoolingShow@nodarider.org and include Image Number,
Date of Show, Rider Name, Horse Name. Your picture will be delivered and available at the Nov 19 NODA Banquet!

2017 NODA Year-End Banquet Celebration
New Venue Holiday Inn – Independence New Day Sunday, November 19 New Time 11 am to 3 pm
Everyone Welcome, Banquet Invitation Mailed in early October, RSVP Required to Attend Banquet.
This year's Banquet features All you can eat Buffet Brunch (Adults $30, Children $25), wonderful silent auction, awesome raffle prizes, fabulous year-end awards, loads of fun, & more!
NODA Year-End Trophy News
Edy Ujczo Partnership Trophy Application Deadline Extended to October 21
Trophy Information and How to Apply

NODA supports the USDF in its strong recommendation that ALL riders
wear ASTM / SEI Certified Protective Headgear when mounted.
******
NODA Broadcast Email Issued by: Northern Ohio Dressage Association
To delete your e-mail from further NODA Member e-News, contact webmaster@nodarider.org
www.NodaRider.org NODA is a 501(C)3 Educational Organization