NODA BROADCAST E-MAIL 9/19/17 e-News
Back to: BROADCASTS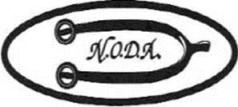 Northern Ohio Dressage Association
www.NodaRider.org

Attention All Members – Your Attendance is Requested
at the Friday, 9/22 NODA Annual OPEN Meeting

Dinner & Refreshments Provided Meeting Flyer 7 to 9 pm at Topline Stables in Aurora
This is a Critical & Important Meeting!
The future of NODA will be discussed, and 2018/2019 Executive Board Nominations
will be accepted for President, Vice President, Secretary, Treasurer, & 4 Directors at Large
Executive Board Job Descriptions
10/7 NODA Schooling Dressage Show at Chagrin Valley Farms

ENTRIES OPEN to ALL Competitors
IMPORTANT NOTE to Online Show Entry Competitors: Rider, Owner, and Trainer signatures required on each Entry Form before you can receive your bridle number to compete at the show. (Trainer signature only needed if they are riding your horse). How to submit signed Entry Forms
October 8, 2017 NODA Schooling Show Series Championship

Open to Pre-qualified NODA Members Only
Qualified Riders will receive e-mail from the Show Secretary with Championship Entry Form
Qualified Rider List
This list also shows NODA Members missing qualifying scores or volunteer requirement..

Mark Your Calendars! .
2017 NODA Year-End Banquet Celebration

New Venue Holiday Inn – Independence New Day Sunday, November 19 New Time 11 am to 3 pm
Everyone Welcome, Banquet Invitation Mailed in early October, RSVP Required to Attend Banquet.
This year's Banquet features All you can eat Buffet Brunch (Adults $30, Children $25),
wonderful silent auction, awesome raffle prizes, fabulous year-end awards, loads of fun, & more!

NODA supports the USDF in its strong recommendation that ALL riders
wear ASTM / SEI Certified Protective Headgear when mounted.
******
NODA Broadcast Email Issued by: Northern Ohio Dressage Association
To delete your e-mail from further NODA Member e-News, contact webmaster@nodarider.org
www.NodaRider.org NODA is a 501(C)3 Educational Organization