NODA Newsletter Team
NODA publishes 12 newsletter issues annually which highlight equestrian events and news. Packed with information valuable to NODA members and the equestrian community at large, every issue includes articles, news, events, clinic reviews, and more!
Mosie Welch, Newsletter Lead Editor & Corral Magazine
Mosie joined the team in 2012 and has served in various newsletter roles. As of 2018 NODA News Issue 12, Mosie is the Lead Editor of the newsletter team, in addition to submitting monthly news and articles to "The Corral Magazine". As a former successful co-editor of NODA News, Mosie brings a wealth of experience to this role. Over the years, she has dabbled in horse show volunteer work (tabulating, equipment check, scribing,) and writing articles for the newsletter. Her current dressage partner is her 2008 Welsh cross pony, Aleksandr Robyn (aka Alaska). At home are husband, Denis, her Frieisian mare, Sietske, Alaska, and two standard poodles, Supai and Piegan. When she isn't riding, she treasures time with their grandchildren, taking dance lessons, hiking, and gardening.


Heidi Miller, Newsletter Co-Editor
Heidi joined our Newsletter Team in January 2018. Working closely with the Newsletter team, Heidi will help develop content, write articles, help format, and review the newsletter. Heidi has had a lifelong love of horses, and finally got her first horse 18 years ago. Retired after 28 years working in a machine shop where she did everything from running machines to office work, Heidi now devotes her time to working with her beloved horses, Merlin (in picture), and Tucker (also known as "Got That Right") and working at her barn. She enjoys competing at dressage shows with both horses, and hopes to do some breed shows. In her spare time, she also enjoys creating and producing beautiful custom embroidery.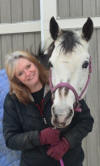 Jill Voigt, Advertising & Classifieds Editor
Jill joined the team in 2013. She is the contact for all Advertisements in the newsletter and on the website, and she helps format the newsletter each month. Jill enjoys taking photos and writing articles for the newsletter. Along with her family, owns and operates Rosewood Stables in Columbia Station. Jill and her daughter Stephanie own four horses: an Appaloosa, a Paint, a Quarter Horse, and a Hanoverian Oldenburg cross.

Jessica Austin, Reporter
Jessica joined the newsletter team in July 2017. She is a former nurse turned family medicine resident at University Hospitals Parma. In her not so spare time, she has started pursuing her USDF Bronze medal with her mare, Whimsical R. Together with her husband George, she breeds and raises warmbloods and Friesians. The farm is also home to two dogs (Golden Retriever Tiberius and Great Dane puppy Scooby Doo), and two chickens. Jessica loves classical dressage and is excited to be sharing her passion for learning through writing articles for the NODA NEWS.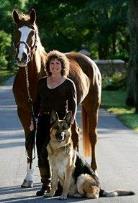 Regina Sacha-Ujczo, Reporter
Regina officially joined the team in 2014.
She is a
USDF Silver and Bronze medalist devoted to the pursuit of dressage excellence, and has attended the USDF "L" Program and was an AA Participant in the USDF Trainer/Instructor Certification Classes. Formerly FedEx VP, she now specializes in horse-related websites, clinic reviews, and articles. Regina owns several horses and two dogs. She
is an organist/soloist at her local Church, AND s
he is married to a very supportive horse-husband, Edy Ujczo!